Wedding Pricing
Congratulations On Your Engagement!!!
Recently married myself, I can now fully appreciate all of the hard work and collaboration that goes into planning a wedding.  What an amazing journey it is from getting engaged, planning your unique wedding, declaring your vows and then celebrating the occasion surrounded by people that you love.  It is truly a beautiful experience.  Be sure to enjoy each moment!
As a photographer, I strive to capture the joy and emotion of your wedding day as well as the spirit of your unique relationship.  I absolutely LOVE being a photographer.  I can't imagine doing anything else.  As an artist, I have always looked for ways to express myself, tell a story and evoke emotion.  I have been using photography as a means to do this for over 10 years.
Thank you for considering me to document such a memorable and meaningful event in your life!  Please take a moment to review my pricing and product information.  I can also send you a printed brochure by request.
I would be happy to speak with you or meet with you to discuss your options and get to know each other better.  I very much look forward to hearing from you and learning about the details of your wedding and your unique relationship!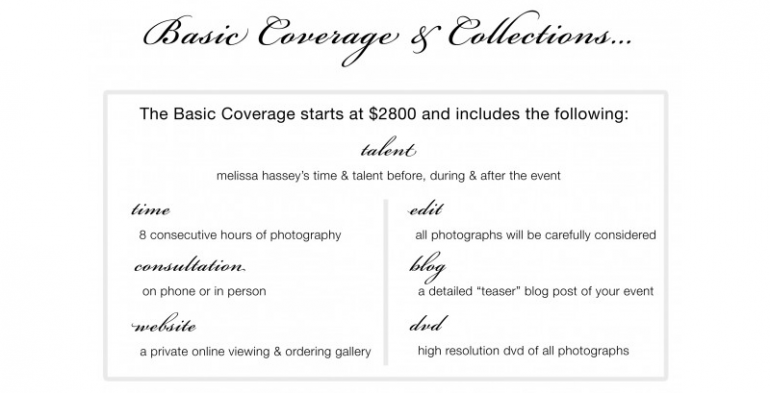 Please Contact Melissa for more information
Customized Collections Available Upon Request